Starting Blocks
Quick guide to getting started with human-powered transportation.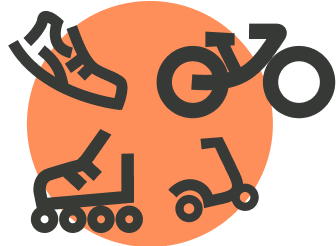 Choose your mode
There are lots of ways to roll! When choosing the mode that is right for you, consider distance, timing and feasibility. For distances of 1 miles or less, walking is a great way to get where you're going – and get some fresh air! For greater distances, biking, skateboarding, scooting, and skating are all viable modes with their own considerations. Bikes and e-bikes are great for commuting, transporting kids, dogs and just about everything else! See if you qualify for local e-bike incentives.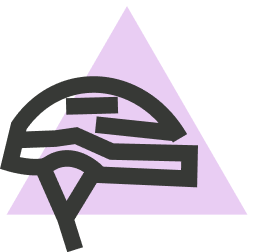 Get your gear
Prioritize the gear that keeps you safe and comfortable. Start with comfortable shoes, bright clothing, lights, and if you're rolling – a helmet. If you're rolling, make sure your wheels are in good condition, check your brakes and make sure all parts are in good repair, clean and properly lubricated. Check out our ABC Quick Check for bikes!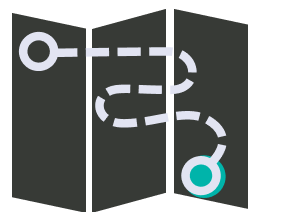 Plan your route
Consider your mode and timing when planning a route. You can work up to bigger trips by starting small to build up strength and confidence. Depending on your mode, look for routes with good lighting, sidewalks, bike lanes and crosswalks at key intersections. Use Google's bike path tool or Strava heat maps to see what routes are being most utilized by bikes in your town. See if your town has an active transportation plan or existing safe corridors. Local to Santa Cruz? Check out our low-stress routes.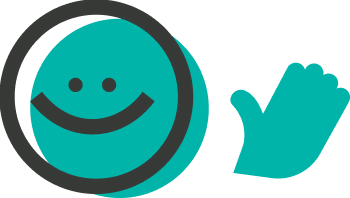 Connect with community
Find your people! See if a neighbor or nearby friend or coworker wants to join you! Groups of people walking and rolling together are safer because they more likely to be noticed by drivers, they're also more fun because you're with good company! Check out neighborhood networks and community boards, if you're in Santa Cruz County check out our group rides page for info about upcoming community events!
5 tips for street safety
Whether you're walking, biking, skating, or scooting, read on for critical safety tips!
Wear bright colors
Dark clothing is especially hard to see for a driver. Stand out as much as possible by wearing a bright jacket, shirt, or helmet.
Light the way
Front and rear lights are required for all bikes after dark – and a good idea for all other modes! Make sure drivers and other travelers can see you on the road after dark.
Identify your route
Plan out the best route ahead of time. You can use the Google Maps bike path filter or check out your local City Map.
Go with the flow
When walking, stay on the sidewalk and follow any traffic signs. Always bike or roll in the direction of traffic unless there are special circumstances. Learn more about street safety.