Published: February 1, 2023
Safe Routes for Cycling in Santa Cruz County
4 Easy-to-Follow Digital Maps for an Enjoyable Ride
You have your bike, your helmet, the bag that secures to the side of your frame to hold precious cargo. You're ready to roll…but your commute takes you on one of the busiest streets in town. Even the most veteran bikers can be leery of riding on a main thoroughfare. Enter plan B: safe routes for cyclists! While we wait for more significant infrastructure changes like additional rail trail segments, protected bike lanes, and more green bike lanes in the coming years, we have routes that we can use now. These tried-and-true routes skip the busy roads and navigate through lower-stress streets that tend to have less traffic, flatter terrain, and bike lanes or multi-use paths. We have long used these routes for our group rides and can attest to their ease and functionality!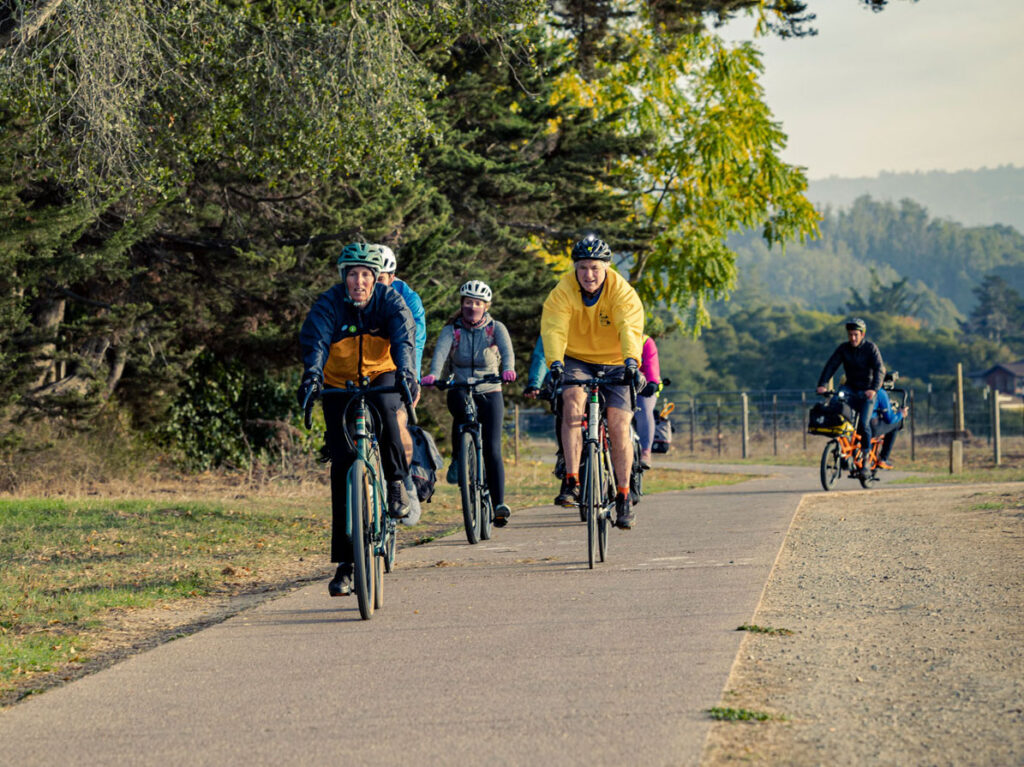 These four routes span different sections of Santa Cruz, Soquel, Aptos, and Watsonville. As you'll see on the maps, they start and end at specific locations (most are coffee shops—because every ride needs fuel!). We suggest using the Google Maps Bike function to pre-plan your route. Google Maps is one of several tools that can help you plan a bike route from A to B, featuring a bike layer that shows bike paths and bike lanes as well as the elevation profile of your route. After tacking your route on to one of these safe routes, you'll be good to go!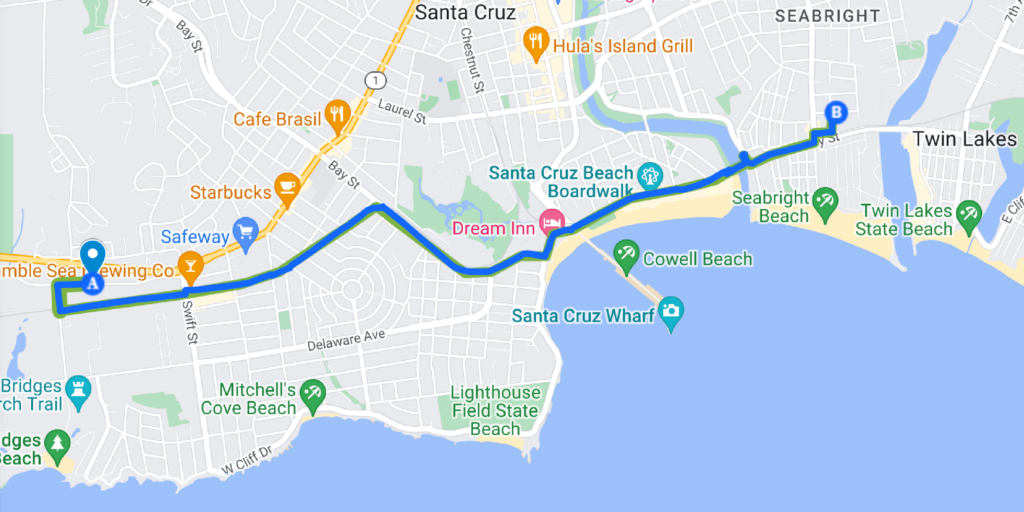 This route is one of our favorites in Santa Cruz! The views are incredible as you sail by the boardwalk, and large sections of the route are on trails or bike lanes. This route features the car-free multi-use Westside rail trail, bike lanes on Bay Street, a protected two-way cycle track along the Santa Cruz Boardwalk, and a bike/pedestrian bridge over the San Lorenzo River.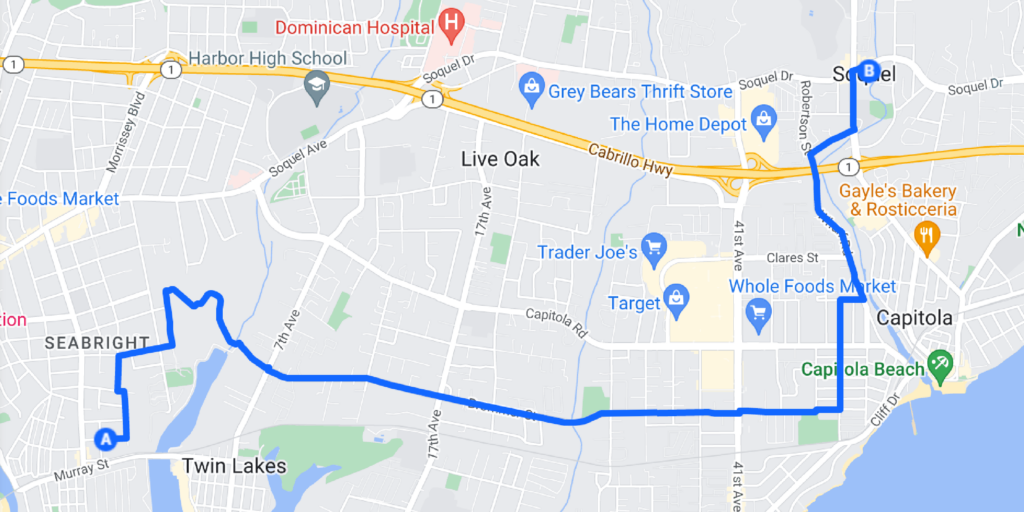 This route has it all when it comes to low-stress riding. Enjoy quiet neighborhood roads through Seabright, a scenic car-free multi-use path through Arana Gulch Open Space, bike lanes along Brommer Street, and a short section of protected bike lane on Soquel Wharf Road.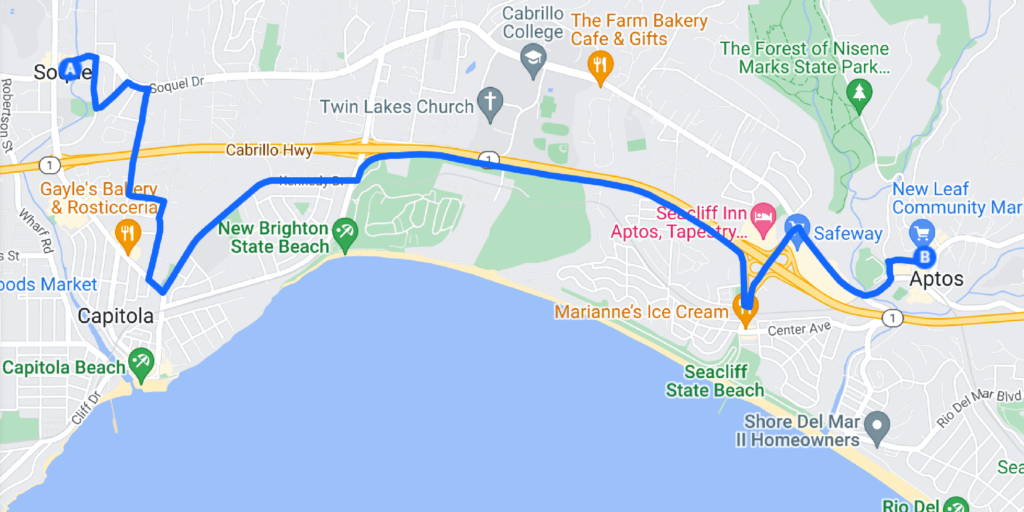 Bookmark this route for commuting or a truly enjoyable Sunday spin. Ride through Heart of Soquel County Park on a multi-use path and then navigate through quiet neighborhood streets, some with sharrows and others with bike lanes. There are some stretches of shared car and bike use when approaching Aptos Village, so be alert and utilize your bike safety skills.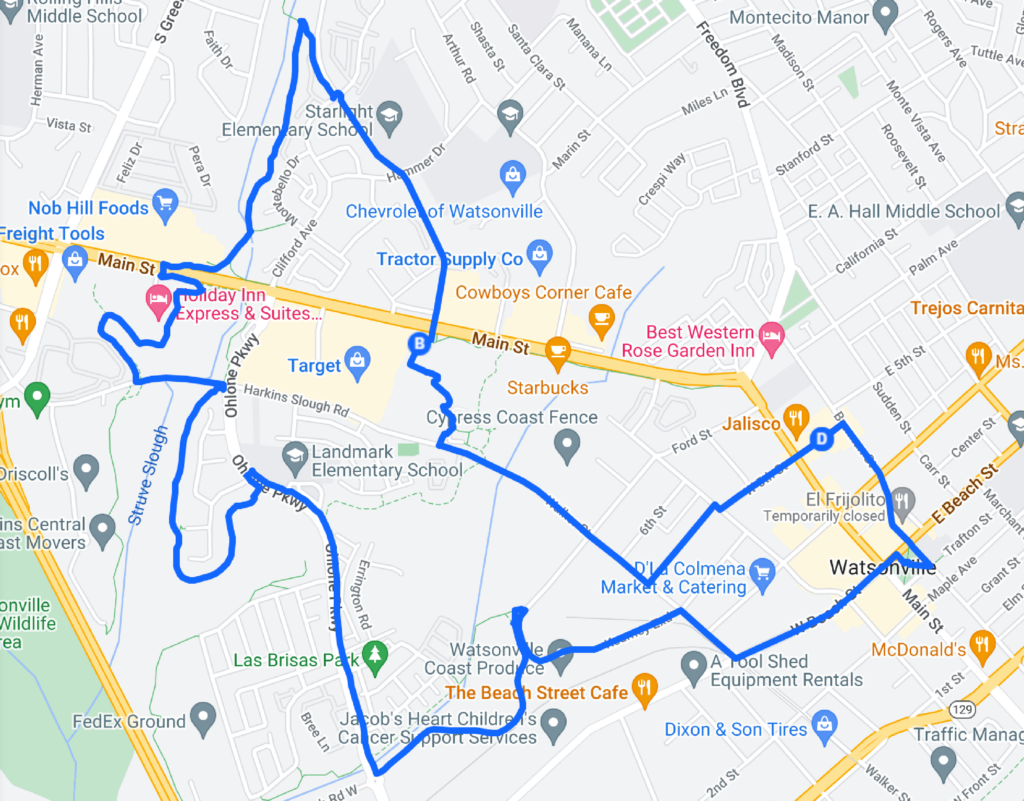 Tour de Watsonville! Thanks to great bike infrastructure and the rail trail, riders can easily navigate to different parts of town (including schools, parks, and shopping centers) using multi-use trails, slow streets, and protected bike lanes.
Other Tips to Prepare for a Safe and Enjoyable Ride
Phone a friend. Riding is more fun with others! Practice your commute with another cyclist. Rope in a friend, family member, or co-worker to run errands or commute to work on bike together.
Mount your phone. Add a phone mount to your bike setup to easily see and hear map directions.
When in doubt, follow the signs. Thanks to the Santa Cruz County Regional Transportation Commission, there are over 300 locations scattered across the county with wayfinding signs to 53 major destinations.
It's okay to take a break. If you're feeling stressed, anxious, or unsafe, it's more than okay to find a safe place to pull over. Your safety is always the top priority!
If you have a go-to route in town, share it with us. We're always on the hunt for more routes to make cycling accessible to everyone!